Esri CityEngine, is a 3D modeling software application developed by Esri R&D Center Zurich (formerly Procedural Inc.) and is specialized in the generation of three dimensional urban environments. With the procedural modeling approach, CityEngine enables the efficient creation of detailed large-scale 3D city models with merely a few clicks of the mouse instead of the time exhaustive & work intensive method of object creation & manual placement. CityEngine works with architectural object placement & arrangement in the same manner that VUE manages terrain, ecosystems & atmosphere mapping & is equally as diverse in its ability of object manipulation & environmantal conformity/harmony as its VUE counterpart. The recent acquisition of CityEngine by Esri is aiming to push the innovations in 3D GIS and Geodesign technology (from Wikipedia).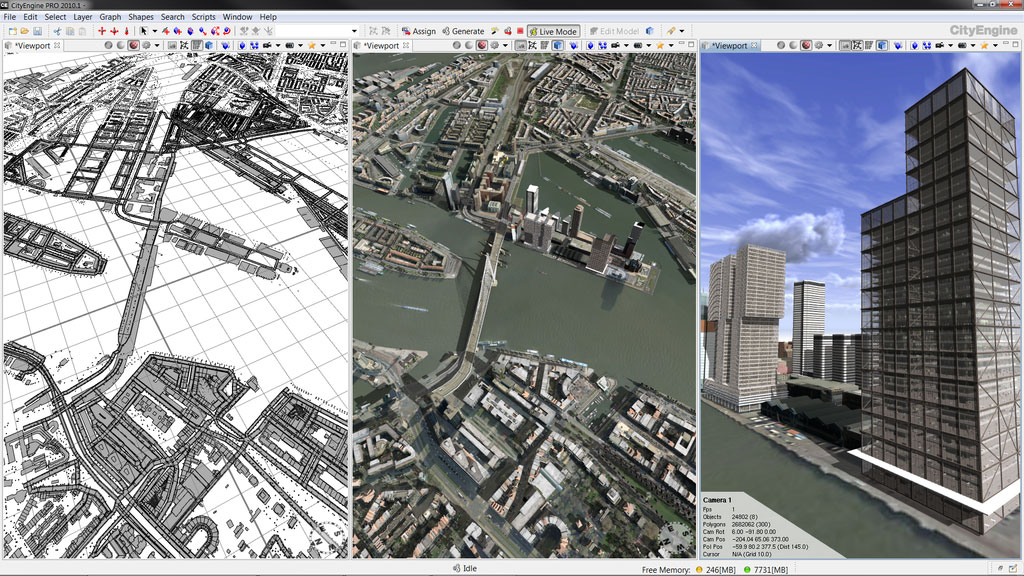 In 2008 I joined the ETH Zurich spin-off company Procedural Inc. as a software architect, and worked the general CityEngine software design, the real-time rendering core, and interactive 3D editing features.
CityEngine was quickly adopted by big players in different industry areas where fast 3D digital content creation is needed. Some examples are:
Film: DreamWorks, Pixar, Weta Digital, Mr. X Inc., Fold7.
Gaming: Blizzard Entertainment, Rockstar Games, Square Enix, THQ, Grasshopper Manufacture.
Architecture and Urban Planning: Foster+Partners, Zaha Hadid Architects, SOM, Coop Himmelb(l)au.
Government: Singapore Urban Redevelopment Authority, Brisbane City.
Education: MIT, Stanford University, Harvard, Carnegie Mellon, ETH Zurich, Fraunhofer Gesellschaft.
Others: Microsoft, IBM, NVidia, Samsung.
More information: http://www.esri.com/software/cityengine
Company: Procedural Inc.
Position: Software Architect
Period: 2008 – 2011